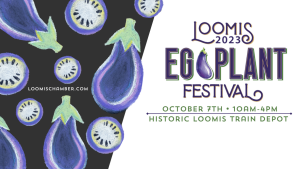 FOR IMMEDIATE RELEASE
MEDIA CONTACT: thumbleragency@gmail.com, 530-218-2027
Photos attached and at Google Drive
36th Annual Loomis Eggplant Festival
Celebrates Community Fall Fun October 7, 2023
Come enjoy the Loomis Eggplant Festival on October 7, 2023. The Loomis Eggplant Festival has been celebrating the joys of this purple fruit (or is it a vegetable?) for 36 years. Join us for some free, family-friendly fun. Step back to some of California's rural roots in farming and fruit packing. Loomis was the primary hub for regional fruit packing at the historic Train Depot where the Eggplant Festival is held.
The fun starts with a free pancake breakfast from 8 am to 10 am at Firehouse Station 18 on Horsehoe Bar Road. Festivities kick-off at 10 am with a Kazoo Parade at the Train Depot, followed by the formal opening of the festival, which includes a chalk drawing contest, a cooking contest, two stages with music and community activities, as well as a fun zone for the kids, plus 4-H and FFA "Back to Basics" farm area with live animals.
Eggplant Festival vendors include some of the best food vendors, craftsmen and artists in Placer County, so plan on taking time to explore, shop and dine while taking in entertainment on two stages.
Featured local craft beer includes Loomis's own Loomis Basin Brewery and High Hand Brewery. As you enjoy your cold fresh beer, know that you are contributing to this community's vitality.
Sponsors Loomis Raley's and High Hand Nursery will be distributing free Eggplants. Loomis Eggplant Festival thanks all sponsors, volunteers, local businesses and organizations for making this community event possible. Loomis Eggplant Festival sponsors include: the Town of Loomis, LIG Rentals, Recology, Ace Hardware and many other fine organizations.
——
WHO: Loomis Basin Chamber of Commerce
WHAT: Loomis Eggplant Festival
WHERE: Train Depot, 5775 Horseshoe Bar Road, Loomis, CA
WHEN: October 7, 2023
DETAILS:https://www.loomischamber.com/eggplant-festival/
CONTACT: (916) 652-7252
FEES: Attendance and parking is free of charge and open to the public.
Loomis Eggplant Festival 2023 Schedule
Check in and get info at the Little House of Eggplant by Train Depot entry.
5775 Horseshoe Bar Road, Loomis, CA
Free Pancake Breakfast
8 am to 10 am
Hosted by the South Placer Fire District,
Firehouse Station 18
5840 Horseshoe Bar Road
Kazoo Parade
10 am to 10:30 am
Festival Grounds at Train Depot, Walking Tour
Free kazoos provided by Loomis Basin Chamber of Commerce. Pick up your free kazoo at the Little House of Eggplant at the Train Depot entry.
Over 100 vendors with crafts and food!
Two Stages
Community Stage at the Train Depot for local talent and community announcements
Main Stage in Gander Taphouse parking lot, 3550 Taylor Road
Main stage
12 pm to 2 pm Dyllon Gage performs acoustic country music
2 pm -4 pm Manzanita performs BlueGrass, country, folk music
Eggplant cooking contest
All recipes must use eggplant as the main ingredient and be submitted with recipes by 10:15 am.
No fee to enter. $100 first place, $50 second place, $25 third place.
Mary Jane Perkins is accompanied by culinary experts to judge this contest.
Sidewalk Chalk Art
Next to Blue Anchor Park (in the Train Depot), occurring throughout the day
Three categories: Children, amateur, and professional
Prizes in each category of art will be awarded.
Register now at https://bit.ly/EPFChalkArt
Beer Booth
The Beer Booth will open at 10 am and is sponsored by these local craft breweries: Loomis Basin, High Hand, Knee Deep, Crooked Lane, Shred, and Auburn Alehouse.
Kid Zone
Bounce houses
Obstacle course
Face Painter
Back to Basics
Live farm animals including alpacas.
Presented by Del Oro FFA Chapter and Miners Ravine 4-H Club
Raffle
Raffle sponsored by Loomis Ace Hardware.
Tickets available online at Loomis Chamber of Commerce,
and at Loomis Ace Hardware, 3690 Taylor Rd, Loomis
DelOro High School Alumni Group Photo
Del Oro High School Alumni group photo will be taken on the Community Stage at noon
Wear black and Gold. Drone photography provided by Kyle Schanz Photography.
Celebrate the Eggplant Festival all week by wearing purple.
Watch for special offers on social media:
https://www.facebook.com/loomiseggplantfestival
https://www.instagram.com/explore/tags/loomiseggplantfestival/
#loomiseggplantfestival
Getting to Loomis
Loomis is approximately 30 minutes east of Sacramento immediately off Highway 80.
About Loomis
The Town of Loomis is a semi-rural gem with a deep history of both fruit packing and railroad, not to mention being a primary equestrian community with great access to many outdoor activities from golfing to biking to exploring local parks and trails.  Take the Horseshoe Bar exit off Highway 80 and in a few short blocks, you will find yourself surrounded by a collection of wonderful shops, breweries, and restaurants.